July 2018: My Hometown Miyoshi – Where Three Rivers Meet
I hail from Hiroshima Prefecture in western Honshu, the main island of Japan. I grew up in a small city called Miyoshi (population 52,000), which is closer to the neighboring Shimane Prefecture to the north than the Hiroshima City to the south. I lived there until I graduated from high school, before relocating to Osaka to attend a graphic design college as an 18-year-old.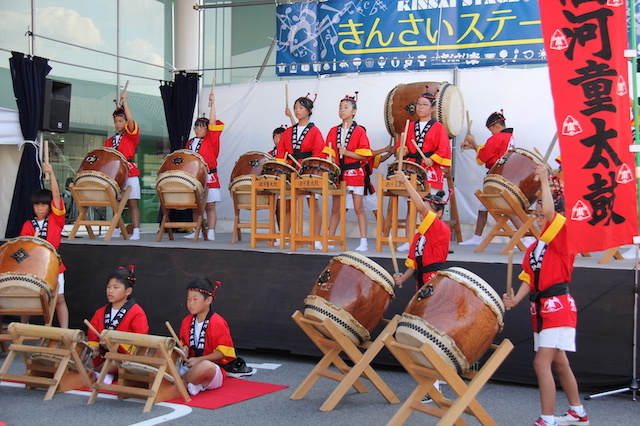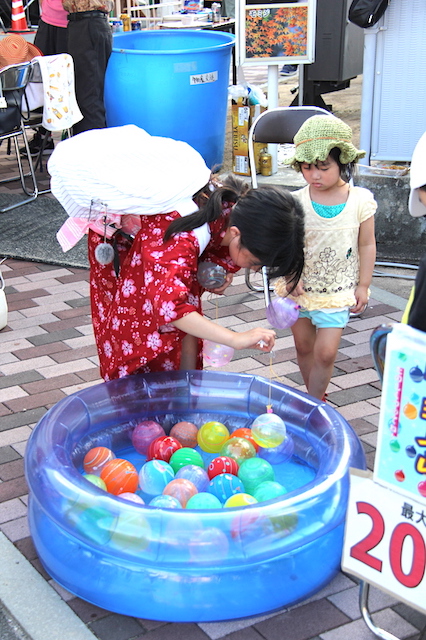 Apart from a couple of shopping centers and several national chains such as Daiso and Uniqlo, Miyoshi is the kind of place where most people operate their own small businesses and cater for each other. My parents have their little barber shop (to call it a 'hair salon' would be a bit too fancy!), and they believe that they have an obligation to buy goods and services from their customers' shops in turn because "they give us patronage".
These days I call Sydney home and seldom go back to Japan. Indeed, I'm a very bad daughter to my parents. I left Japan some three decades ago to embark on my working holidays in New Zealand and Australia, and I've only returned home three times since. And this third trip back home in 2018 was my first in almost five years.
My trip was scheduled for mid-July, but just two weeks earlier, many parts of Hiroshima Prefecture were flooded after a torrential rain, with many roads cut off by landslides. The rail line connecting Hiroshima and Miyoshi was also severed as one of the railway bridges collapsed. A total of 224 people lost their lives in this disaster, including 114 in Hiroshima Prefecture alone. At one stage I seriously contemplated postponing my trip back home.
The city of Miyoshi is situated in a basin where three rivers meet and can be susceptible to flooding after a significant amount of rain. My childhood home is located very close to where two of those rivers merge, and my parents were told to evacuate their house when it was feared the rising water might overflow the embankment.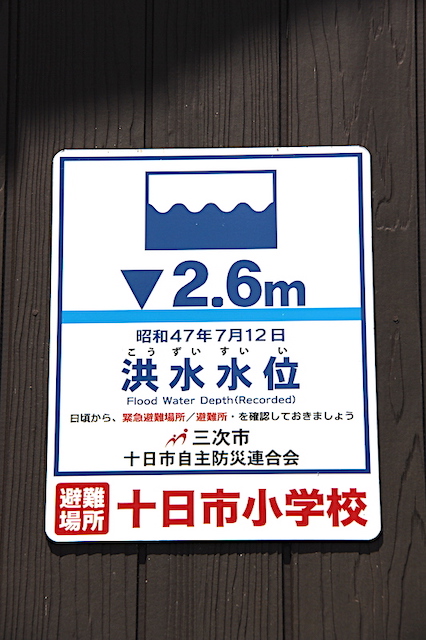 It was this bank behind our house that collapsed and caused one hell of a deluge when I was just nine years old. I remember the ground level of our two-story house being completely under water, and our neighbors' house just behind ours collapsing in the torrential 'river' that had been a vegetable patch the day before. Miraculously, our neighbors in the house – the mother and her two teenage daughters – survived and were swept towards our house, and we all climbed onto the rooftop at 2am and waited in the raging thunderstorm to be rescued by Japan's defense force at daybreak…
In the end, my hometown escaped relatively unscathed this time around and I went ahead with my trip as planned. But there's always a reminder of the serious flood from my childhood: on the wall of our next-door neighbors' house is a plate that indicates the water level when it flooded all those years ago, which reads 2.6 meters.
Home of Doll Maker Jusaburo Tsujimura
Each time I return to my hometown, I'm reminded why I rarely go back there. Apart from spending some time with my family, there's nothing much to do and I get bored to tears! In Sydney, we are all spoilt for choice and there's always something happening – whereas in Miyoshi, there's virtually no sporting events, concerts or stage shows – and there's not even a cinema to catch a movie. In summer evenings, you can watch the games of the Hiroshima Carp (the local professional baseball team) on TV and that's about the only entertainment you can get.
On some days, when I was totally bored, I would go out on a pushbike for a 'Grand Tour of Miyoshi' just to kill some time – despite the 37C-degree heat. And it was on one of those cycling tours I discovered the Jusaburo Tsujimura Doll Museum in the more traditional part of the city across the river.
Jusaburo Tsujimura was born in then Manchuria (present-day Chaoyang in China) in 1933 and later moved to his mother's hometown Miyoshi at the end of World War 2. After his mother's death, he relocated to Tokyo when he was 22 years old and worked as doll maker, kimono designer, art director and costume designer for stages and films. But it was the 1974 TV series 'Shin Hakkenden' on NHK (Japan's national broadcaster), which featured his original dolls, that made him a household name as master of doll-making.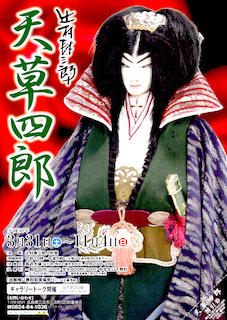 Shin Hakkenden is based on an old epic novel, Nanso Satomi Hakkenden, by Bakin Takizawa (1767 – 1848), which was written over nearly three decades. I won't go into detail, but the summary goes like this: Once upon a time, in Japan's Samurai era, there was a beautiful princess called Fusehime (Princess Fuse) who was 'married' to a loyal family dog that had saved her father lord's province in a battle. When the princess passes away, eight magic beads fly away to eight young 'Dog Warriors' in all corners of the country. They fight baddies and vengeful spirits along the way, until finally coming together by destiny. I loved watching this TV series when growing up, but I had absolutely no idea the popular doll maker for the show was from my own hometown…!
When I visited the Doll Museum, all the Shin Hakkenden dolls were leased to another museum near Nagoya. However, there were many other traditional Japanese dolls of all sizes, including Shiro Amakusa – the main exhibit at the time. They were all clad in exquisite kimono, and you can sense that each one of them was lovingly made by Jusaburo, with extraordinary attention to detail.
Jusaburo's work is not just confined to traditional Japanese dolls, either. Also on display was a small collection of French cabaret-style dolls, and I was impressed with his versatility as a doll maker.
'Ghost Museum' Opens in Miyoshi!
Another of my new discoveries on my cycling tour was this public toilet block (yes, you've heard me right!) not far from the Jusaburo Tsujimura Doll Museum. It was designed like a smaller version of traditional Japanese house, but with a bit of humor. Featured on the Gents and Ladies sign plates were pictures of 'yokai' – little monsters from Japanese folklore!
At the time of my visit, the city's former Cultural Center was being transformed into the Miyoshi Mononoke Museum. Mononoke means ghosts or supernatural monsters, and this brand-new museum has just opened its doors in April 2019.
Apparently, Miyoshi was the scene of Ino Mononoke Roku (1749) – a famous yokai tale from the Edo Period. (…Gee, I really don't know ANYTHING about my own hometown, do I?) The 'hero' here is a 16-year-old boy – a real character who lived in Miyoshi – who encounters all sorts of monsters over a 30-day period in this 'non-fiction'.
So, whoever's idea it was, the authorities here have decided to market the city as 'Ghost Town'. Which is kind of ironic because, inevitably, many of the younger generations desert their hometown for better lives in Hiroshima and other big cities – leaving Miyoshi as a quasi-ghost town. All is not lost, though. Those who do decide to remain there – like my kid brother – enjoy their slow and quiet lives, helping and looking after each other…
P.S. – Oh, and one other thing…
If you dig samurai stories, then you might have heard of Forty-seven Ronin or Ako Vendetta – which is among the most popular subjects for period films and TV dramas in Japan. It's based on a true event where Asano Takumi no Kami, the Lord of Ako Domain, assaults this nasty, power-harassing Kira Kozuke no Suke inside the Edo Castle before being sentenced to commit seppuku (ritual suicide). Having lost their lord, 47 ronin (masterless samurai) from Ako Domain plot their revenge on Kira and eventually behead him.
Princess Aguri (1669 – 1714) – the loyal wife of Asano Takumi no Kami – was from Miyoshi, and her statue can be found in Ozekiyama Park. This much, I DID know about my hometown…!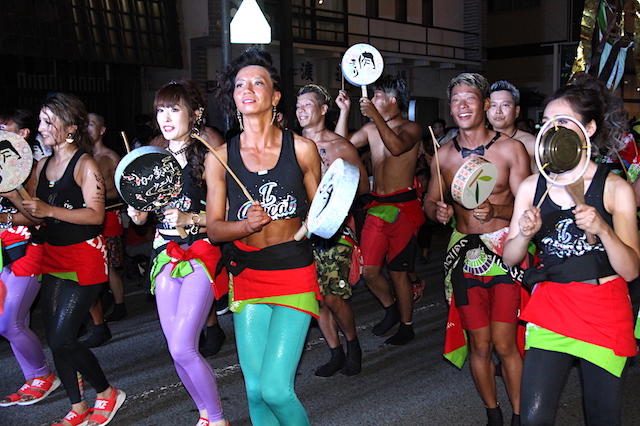 Main image at top: Floats and performers parade the streets during the annual Miyoshi Kinsai Festival in late July. 'Kinsai', in Hiroshima dialect, means 'Come visit (us)'.